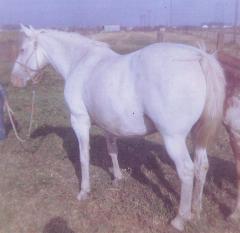 Chan's Royal Cricket (at age 14)
(Bayard's Son (JC) - Snow White)
"Dam of champions that produce champions"
(photo courtesy of Suzanne Koch)
While this page will feature some descendants of Double Or Nothin, his dam deserves mention (since I was able to get a photo). Double Or Nothin's sire, Sugar Bars, is a quarter horse legend. But Cricket is no slouch when it comes to pedigree, performance, and production. The top side of her pedigree traces back to Kentucky Derby winner, Ben Brush. On the bottom side, she is a granddaughter of horses from the Bixby Ranch in California.