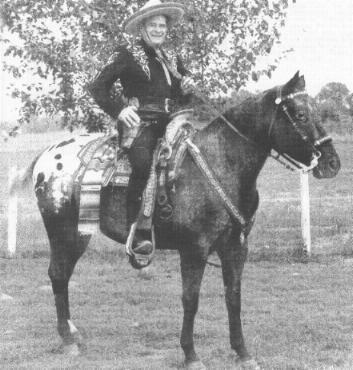 (photo courtesy of Appaloosa Journal)
(Thanks for your help Michelle)
The Cisco Kid was a very popular TV series beginning in 1950. Now over half a century later, many of us get a thrill out of finding the infrequent reruns an a local TV channel during the middle of the night. The Cisco Kid (Duncan Renaldo) was photographed aboard Black Eyed Suzan, an Appaloossa mare owned by J. E. Baker, Oklahoma City, Oklahoma.

This cover photo from the July 1964 issue of Appaloosa News, was a reflection of the popularity of the Appaloosa with movie stars and other famous people.




BLACK EYED SUZAN
(ApHC 8341)
1959 blue roan
LITTLE CHIEF K. S.
(ApHC 4182)

CABLE SLIP
(JC 545535)

(A special thanks to ApHC's Registration Customer Service for help with this information.)