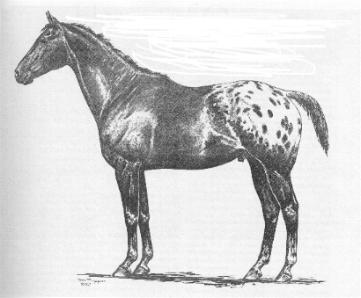 (photo courtesy of
Back around 1952 or so, during Bob Peckinpah's first term as president of the ApHC, there existed a wide variety of opinions as to what the "breed standard" Appaloosa horse should look like. Yep, this was about a half-century ago.

There should be a clear definition as to the breed standard. One part of this definition should include a "picture" of what the ideal or "official breed standard" horse should look like. In the horse show world, judges need to have this reference, especially for the halter classes. If I am going to breed horses to show and market, wouldn't it make sense to try to produce Appaloosas that resemble the breed standard?

I don't know how many artists were contacted, but George Phippen was finally selected and commissioned to paint a horse exhibiting the Appaloosa breed standard. In his book, "The American Appaloosa Anthology," Palmer J. Wagner stated that Phippen's horses looked like horses because he had the true artist's knowledge of anatomy. Mr. Wagner went on to say that the painting was a composite of the top show winners and that after several revisions, the final painting, known as "the Phippen horse" became the official breed standard.