Inducted into the ApHC Hall of Fame in 2000, Bendi Charge, owned by IB Stables, was foaled in 1972 at Leander, Texas, and was bred by Glada and Bill Sanders.
Bendi's sire, Rustler Charger, was 1969-1970 Roping World Champion, 1970 Reserve National Champion Performance Horse, 1970 World Champion Performance Horse. In 1972, Rustler Charger set a world record Pole Bending time of 20:55 seconds at the ApHC Nationals and in 1974 was National Champion in Reining. He won a total of 12 National or World Championships. Rustler Charger's sire, Rustler Bill, is an ApHC Hall of Fame stallion.
Bendi's dam, Navajo Blonde Squaw, is sired by Navajo Britches. Navajo Britches was the 1958 National Grand Champion Stallion, a great performance horse, and was inducted into the ApHC Racing Hall of Fame in 2002.
In her early years, Bendi had been trained as a reining horse at Cheeseborough Stables. Sold in 1978 to Denise Carpenter, she was used exclusively as a broodmare by the Carpenters, then Big J Farms and Sweet Hill Ranch until purchased by Iris and Bill Snyder in 1988. Iris had already won a Medallion with Bendi's first foal, Sudden Death. Iris was eight months pregnant with her second daughter Audra when she flew to Florida to look at Bendi and her yearling filly for a customer. The customer, JoAnn Boles, purchased the filly, Solar Charged. Iris only needed a riding school horse at the time and agreed to buy Bendi if she was gentle enough to ride. The mare, although not ridden in many years, rode well and was shipped to Indiana with her yearling.
Bendi Charge was used as a babysitter/trail horse for Audra and a school horse at IB Stables for the last several years of her life, in addition to her broodmare duties. Even after 10 years of not being ridden the mare could still do flying lead changes, even for beginner riders. She packed Audra Snyder safely around the farm and on trail rides from the time Audra could sit up.
During her lifetime, Bendi produced 16 live foals from 1976 - 1995; the last one when she was 25 years old. Five offspring have earned bronze medallions with a total of 12 bronze and three superior achievements. This record places Bendi in the top 20 all time producing mares of the Appaloosa breed based on medallion production (reference: Appaloosa Journal articles "Supermoms," May and June 2000 issues).
Bendi's first foal, Sudden Death, was sired by ApHC Hall of Fame stallion Absarokee Sunset. Sudden Death not only won a bronze medallion and three superior achievements, she also produced four bronze medallion winners herself.
Sudden Death won 31 Canadian or US Year-end, National/World Championship or Reserve titles. She carried five different youth riders to National Championships. She won her latest National Championship at 25 years of age while she was pregnant with her eleventh foal. Sudden Death has been featured in news articles in the US and Canada.
Bendi's third foal, Absarokee Charger has won five bronze medallions in Western Riding. He has also won National Championships in youth and Non-Pro. His temperament is much like his dam's and, along with his athletic abilities, is a large part of his success in many events.
Charge A Buck, sired by My Brightest Hope, won his first out of five bronze medallions in Keyhole with a time nearly a full second faster than his nearest competitor in 1996. He has gone on to win bronze medallions in Stakes, Figure 8 (twice), again in Keyhole (2002), and a Reserve National Championship in Rope Race. Buck was 1996 and 2002 Reserve World Champion Games Horse and 2003 National Champion Games horse. Buck has carried youth riders (Beth Dishler and Rose Snyder) to two Reserve National Championships in the Figure 8 Race. He has earned his Certificate of Versatility with ROM's in Stakes, Stumps, Figure 8, Keyhole, and Rope Race.
Nuclear Hope, also sired by My Brightest Hope, won a Reserve World Championship and High Point in the Nation in Junior Saddle Seat Pleasure in 1997, to become Bendi's fourth medallion winner. Nuclear Charge is also an ApHC Champion with points in Halter and Performance. He is now a Non-Pro mount.
In 2000, Bendi's last foal, Check Or Charge (also sired by My Brightest Hope) won her bronze medallion in Competitive Distance Riding.
Although not a medallion winner herself, another Bendi daughter, Solar Charged has consistently produced futurity winners year after year, and the 1999 Reserve National Champion Color class winner, Unbelieveable Andrew.
Other grand-produce of Bendi Charge include:

Kiss Of Death (My Brightest Hope - Sudden Death) -- 1992 Co-World Champion Games Horse, 1996 Canadian National Champion Timed Event Horse, 1999 National Champion Youth Keyhole Race, and 2000 Competitive Distance Riding Medallion winner.
Eyes Of Death (Billy Billy Bayou(AQHA) - Sudden Death) -- 1999 Reserve National Champion Open Steer Daubing, 2002 National Youth Champion Keyhole and the Lauren Tutwieler Youth Games Horse award.
Death Wish (My Brightest Hope - Sudden Death) -- 2003 AGHA World Champion Stakes Race.
Angel Of Death (My Brightest Hope - Sudden Death) -- 2000 Competitive Distance Riding Medallion winner.
Dances With Death (My Brightest Hope - Sudden Death) -- 2000 Competitive Distance Riding Medallion winner.
Death Denied (My Brightest Hope - Sudden Death) -- 2000 Competitive Distance Riding Medallion winner.
Bendi possessed the superior soundness, temperament, longevity, and athletic ability of her sire, dam, grand sires and grand dams, then passed it on to her produce, which are passing it on to their produce. Her daughters are producing National Champions and Medallion winners, proving that the sound, athletic, all around using horses of the original founders and breeders of the ApHC can and are still succeeding in today's age of specialization.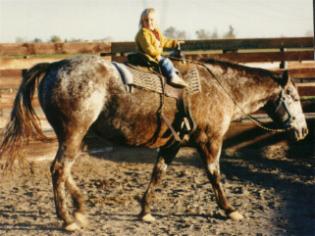 Bendi Charge
Babysitting Audra Snyder - 1990
Iris and Bill Snyder
IB Stables
Copyright © 2003 IB Stables