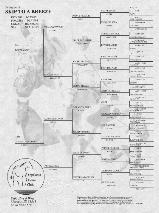 The ApHC Pedigree Department
2720 Pullman Road
Moscow, ID 83843
Phone: (208) 882-5578 ext. 300
FAX: (208) 882-8150
E-mail: aphc@appaloosa.com
I have been asked if I do pedigrees on horses. A simple answer is, "Yes, and No." I try to do them on hall of fame and foundation horses (with quite a bit of help, I might add), and sometimes try to do them on our own horses. If you need a pedigree on your horse, you might contact one of the sources listed on this page. You need to contact them for their current rates (or check their ads in the Appaloosa Journal). In addition to payment, you need to furnish them with the horse's name, breed, registration number, and it helps to send along the same information on the horse's dam and sire. I have found it easiest to send them a copy of the registration certificate.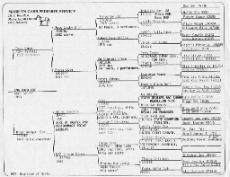 Marilyn Carr
Rt. 1, Box 212
Moberly, MO 65270
Phone: (660) 263-0669


---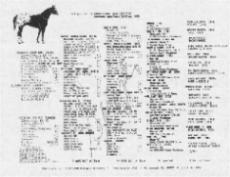 PM Mefferd
3789 Main St #26
Cottonwood, CA 96022
Phone (toll-free) (888) 453-0983
Fax: (530) 347-0983
E-mail: pedigrees@email.msn.com